Winn Lane
Before 2010, Winn Lane was nothing more than a disused space. The lane grew from an idea to create compact, affordable spaces for independent, first time retailers. Always evolving, the lane is now home to a variety of independent businesses and has played host to some cool events from yard sales to dog shows, as well as being the backdrop to St Jerome's Laneway Festival.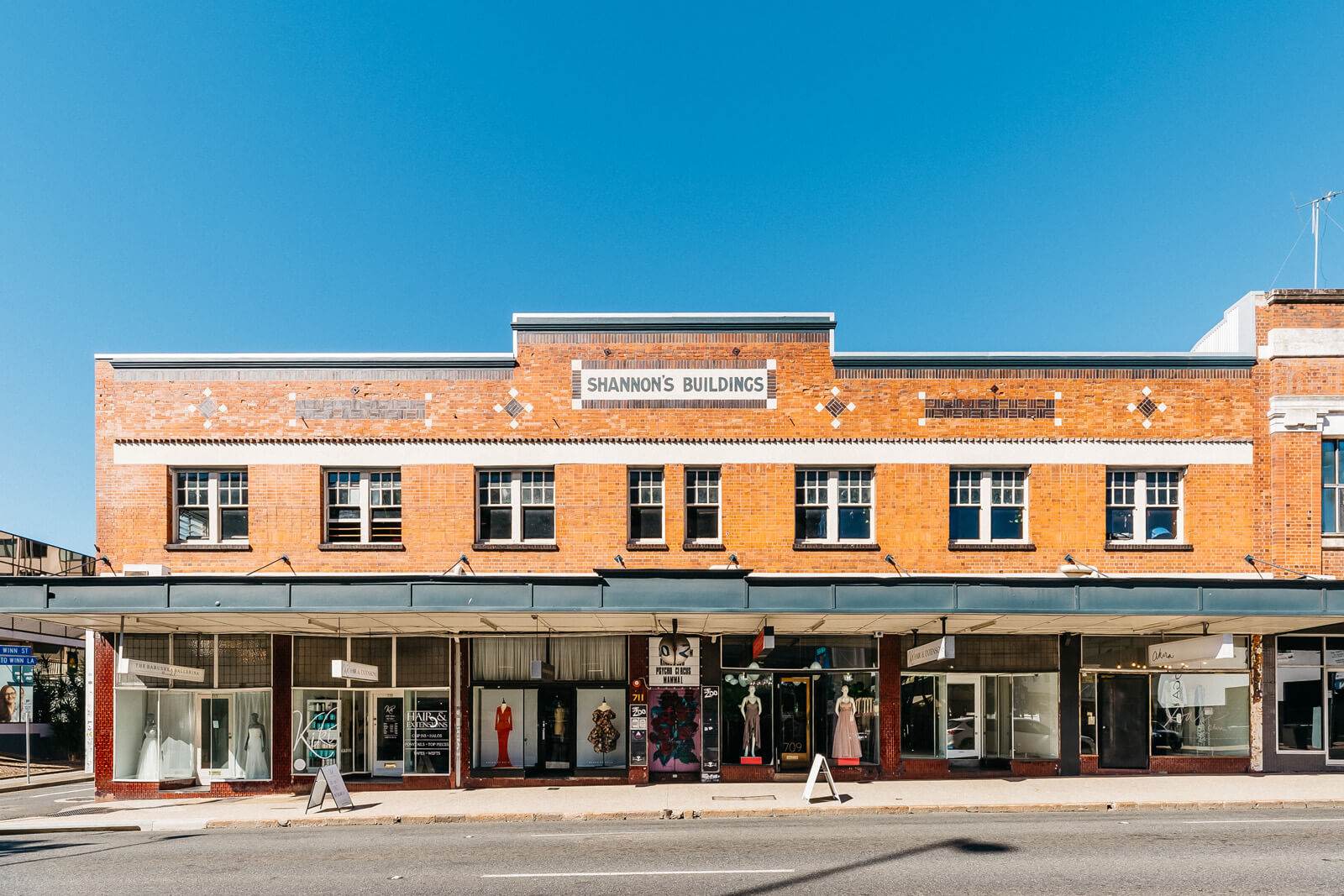 Shannon's Building
The lane is not without historical significance. It sits nestled between the historic Shannon's building and Winn Street warehouse. Built in 1924-5 both are rare surviving examples of renowned architect E.P. Trewern's commercial work in Brisbane. Reuben Shannon, the namesake of the building, was both the owner and the builder.
Designed initially with six ground floor shops and four first floor residential apartments, the plans for Shannon's building changed and instead, a warehouse factory space was created on the first floor. From 1926 to 1940, furniture dealers, mechanics, used tyre dealers, stove-makers and Hutchinson and Son Printers were tenants. The upstairs space, which is presently occupied by the iconic Zoo nightclub, was formerly leased to clothing manufacturers Harris and Co. from 1927-1933 and Olsens from 1937 and into the 1950s.
Today many of the original features of Shannon's building remain, including lead light windows, exterior tiling, intricate brick work within the façade, timber sash windows on the first floor and street awning.
Winn Street Warehouse
Retaining some of its original features as well, the Winn Street warehouse still has a winch and pulley hauling system intact on the first floor. Evidence of this can be seen in an opening in the front brick gable façade and a first floor receiving entrance that faces the road below. In 1925, the warehouse was leased to the Motor Supplies Company, and later to the Peanut Products Merchants and Manufacturers Company.
With the independent businesses occupying them, these buildings play a similar role in Brisbane today as they did when they were first built in the 1920s.