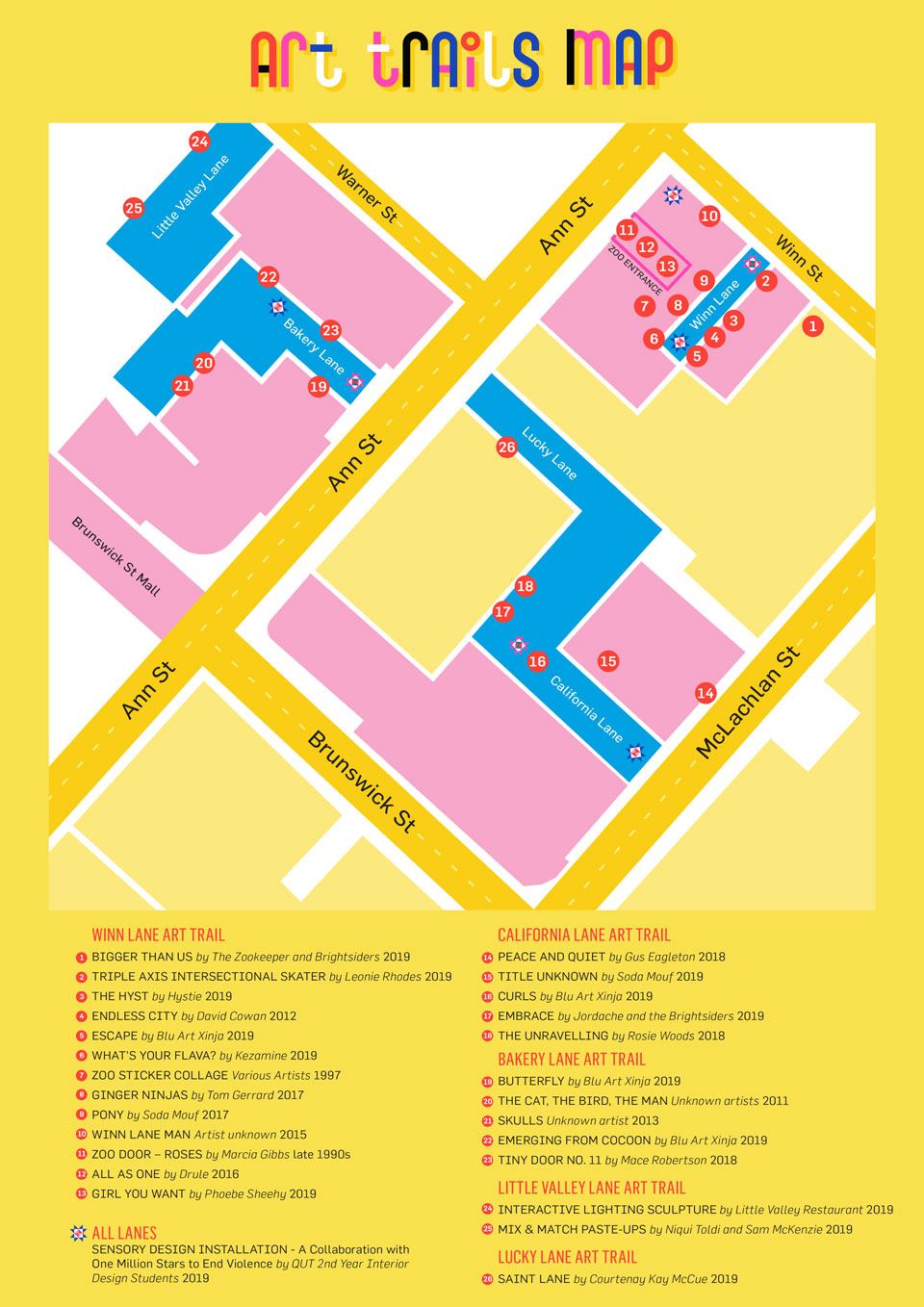 At The Lanes Fortitude Valley, we love street art. From the eclectic art of Winn lane, the blue sculptures of Bakery Lane or the vibrant murals in California Lane, the artwork has added to these previously disused spaces. Walk around and you will discover over 20 art installations which add to the story of The Lanes.
Ever-changing, the art displayed supports local and emerging street and mural artists. While some artworks existed before the development of the lanes, much has been a collaboration with artists who saw these spaces as a perfect place to install their art. Neighbouring lanes, Lucky Lane and Little Valley Lane are not without their own unique art forms.
Join the Art Trail Tour guided by Sarah Hazlehurst from the street art agency, The Culprit Club and find out about the art and artists. Or use the festival map to navigate the art trail through the lanes to read the artwork description.
GINGER NINJAS
Tom Gerrard 2018
BIGGER THAN US
by The Zookeeper and Brightsiders 2019
WHAT'S YOUR FLAVA?
Kezamine 2019
TRIPLE AXIS INTERSECTIONAL SKATER
by Leonie Rhodes 2019
ENDLESS CITY
by David Cowan 2012
ESCAPE
by Blu Art Xinja 2019
ZOO STICKER COLLAGE
Various Artists 1997
WINN LANE MAN
Artist unknown 2015
GIRL YOU WANT
Phoebe Sheehy – 2019
THE HYST
by Hystie 2019
PONY
by Soda Mouf 2017
ALL AS ONE
by Drule 2016
ZOO DOOR – ROSES
by Marcia Gibbs late 1990s
CURLS
by Blu Art Xinja 2019
PEACE AND QUIET
by Gus Eagleton 2018
THE UNRAVELLING
Rosie Woods 2018
EMBRACE
by Jordache and the Brightsiders 2019
TITLE UNKNOWN
Soda Mouf 2019
TINY DOOR NO. 11
by Mace Robertson 2018
EMERGING FROM COCOON
by Blu Art Xinja 2019
THE CAT, THE BIRD, THE MAN
Unknown artists 2011
SKULLS
Unknown artists 2013
SAINT LANE
by Courtenay Kay McCue 2019
INTERACTIVE LIGHTING SCULPTURE
by Little Valley Restaurant 2019
MIX & MATCH PASTE-UPS
by Niqui Toldi and Sam McKenzie 2019